The Thwarting of the IPP Process at the ELARC
The IPP is a legal contract; it is an agreement between a Regional Center client, and their respective Regional Center acting as an agent of the State of California. This agreement dictates what both parties will do, when and how they will do it and for how long. Typically what this means is that the Regional Center will agree to purchase services to be provided to the client (for example, Independent living services, respite case services, speech therapy, and many others). In some cases the IPP will state that specific equipment will be purchased for the client (for example, adaptive living equipment, specialized personal computers, etc.) The IPP should also state specific goals, objectives and performance criteria that the services must satisfy.
We very strongly believe that the IPP process, as practiced at the ELARC, deviates enormously from what was envisioned by the law. We believe that, at times, this deviation constitutes fraud. We will state our case based on numerous anecdotal reports we have received and we will present supporting evidence that has been made available to us.
Some IPP problems that we believe to be endemic at the ELARC are the following:
IPP signature pages signed without any accompanying IPP body.




Figure 1 shows the ELARC IPP Signature Page. We believe that a common practice at the ELARC is for clients, or their families, to sign these forms without any accompanying documentation.

Figure 1. ELARC IPP Signature Page.

The IPP is a legal contract. Who, in their right mind, would sign any contract sight unseen or, perhaps a contract that hasn't even been written yet?!

The ELARC can get away with this for two reasons. First, as we all know, our kids are trusting and respect authority figures; they simply sign what they're told to sign. Clearly the ELARC is taking advantage of the fact that their clients may be low IQ and not understand what they sign.

A second reason why the ELARC can get away with this practice is that some of our parents are trusting, naïve and/or intimidated by the IPP process. Some of our parents report that they are told that they must sign the IPP signature page or risk losing services. Because the ELARC provides parents with virtually no information about their children's rights under the law, some parents feel that they have no choice but to "go along to get along."



IPP's created by service coordinators and then simply presented to clients, or their families, for signature.




In many cases, we believe that the IPP text is created by the service coordinators, based on their perception of the client's needs. This text may be created prior to an IPP meeting (hardly a "conference" as envisioned under the law) and the client or family asked to sign the IPP signature page. Or, the IPP text may be created after the client or family signs the IPP signature page.

An understanding of our children's needs is crucial if appropriate goals are to be established and proper services are to be provided. Parents typically understand their children's needs, capabilities and potential better than anyone else does. Service coordinators are supposed to know about community resources and service availability. Therefore the collaboration between family and service coordinator is essential to assure that appropriate goals and services are established.

Thwarting the IPP process makes it difficult, if not impossible, to establish appropriate goals and services for a client. What difference does it make if appropriate goals and services aren't established? Well, at the very minimum, the taxpayers hard earned money is wasted, and our children don't become as independent as they can and should be. At worst, services are provided that can be harmful, even dangerous, to a client. Later in this article we will present evidence that supports the latter.

Client services purchased that are not specified in an IPP.




We believe that there are scenarios where services are provided although not explicitly authorized in the client's IPP. Is this just sloppiness or an unwritten policy? Why would the ELARC support such a practice? We believe that by not clearly identifying a service in a client's IPP, the ELARC is relieved of responsibility for assuring that the service supports the client's IPP goals (perhaps the service is merely a palliative because the needed service is too expensive). And, of course, if a service is not identified in a client's IPP, the client's rights are very significantly diminished should the ELARC reduce or eliminate the service.

Also, vendor accountability is destroyed. A sound IPP is the basis for vendor accountability; it forms the basis for creating an Individual Services Plan which establishes a performance contract between the Regional Center and a vendor.

A sound IPP establishes sound goals. Sound goals are measurable goals. Measurable goals form the basis for evaluating program performance. And program performance should form the basis for vendor accountability.

We believe that vendor quality and accountability is a very serious problem at the ELARC. We hope to publish an article about this issue in the future.

Client services not purchased that are specified in an IPP.




There are cases where the ELARC has failed to provide services that are explicitly identified in a client's IPP. The family can simply "overlook" this situation or attempt to bring their child's program into compliance with the IPP. In a number of cases, the latter strategy has launched parents on an odyssey that has consumed literally years of effort and still not resulted in their child's program being brought into compliance with the IPP. More about this in an upcoming article.

Services provided that are not meeting the needs of the client as specified in the client's IPP.




Many of us have been dealing with the public school special education system for most of our child's life; as dutiful parents we have complained about the short comings of that system. Most of us would agree, however, that the public special education system was "good enough" in providing services for our children.

Nothing in the special education system, however, ever prepared us for our vendor experiences with the ELARC. Even when great care has been taken to identify goals, objectives and needed services in our children's IPPs, the failure of vendors to comply with even the most rudimentary of these services is truly scandalous.

Although it is unacceptable when vendor staff not provide the services they are paid to provide, we have reports of ELARC clients (our kids!) being left unattended, by vendor staff, in public places, even left in parked cars!

Clearly this is a matter that goes well beyond the topic of this article. We are currently working on an article that will address both vendor performance and quality assurance issues at the ELARC.



Failure to protect client's rights.




Although going well beyond the IPP process, we believe that there have been extensive and egregious failures to protect client's, rights under the law, by the ELARC. These include failure to provide client's with Notice of Action as required under the law, failure to disclose program services and client's rights as required under the law and termination or reduction of program services without notice as required under the law.


Anecdotal reports and evidence that substantiate this claim are included in this article, posted on the elarc.net™ Message Board and will be published in future articles.
Figure 2 shows the ELARC IPP Signature Page, Page 2. We believe that service coordinators lead clients and/or their families to believe that completing this form is mandatory. We believe that completing Page 2 is not only unnecessary, but we believe that this form is not legal. DO NOT SIGN THIS FORM!
Figure 2. ELARC IPP Signature Page, Page 2.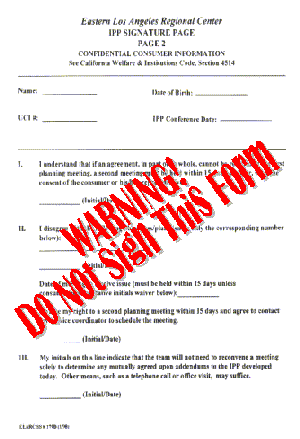 If you initial Section "I" you are simply reiterating what is the law, and possibly introducing the ambiguity or the wording of "I" and thereby only weakening your child's rights under the law. Do NOT initial Part I.
Here's what Protection & Advocacy has to say about this issue. The following notes are extracted from Rights Under the Lanterman Act (Regional Centers):
"What if the regional center representative says he or she doesn't have the authority to make a decision?

"The Lanterman Act is very clear on this. Decisions regarding your IPP and services and supports must be made by the planning team at the IPP meeting. A regional center representative who has the authority to make decisions must be there. That person may be the service coordinator, a supervisor or other administrator. You have the right to speak directly with the people from the regional center who make decisions about your services. If a regional center says that a supervisor who is not at the meeting or a Purchase of Service (POS) or other committee must make final decisions about the services and supports it will agree to put in your IPP, you can object and ask that those people meet with you directly to discuss your goals and the services you need. § 4646(d). You may need to reschedule the meeting if the "decision maker" is not present.

"If no one with authority to make decisions on behalf of the regional center is present, the planning team meeting must be rescheduled for a time within 15 days unless you or your representative, parent(s), guardian or conservator agree to a later date. § 4646(f). You and the regional center can continue to meet as often as you agree to in order to write your IPP."
Section "II" is more insidious. Since the IPP is your plan for services, the Regional Center cannot force you to accept any "objectives/plans" that you don't agree to; they simply should not be part of the IPP. Therefore, section "II" is not necessary. We believe that the ELARC incorporated this provision for those cases where you request a service and the Regional Center refused to provide that service. In this latter case, the ELARC is required to provide you with a Notice of Action, by certified mail, and under a process that provides you with an opportunity to bring the matter to an administrative hearing. We believe that section "II" might thwart this process. Do NOT initial Part II.
Again, here's what Protection & Advocacy has to say about this issue. The following notes are extracted from Rights Under the Lanterman Act (Regional Centers):
"If the regional center refuses to authorize a new service that you have requested, it must send you a written notice within 5 days after the IPP meeting. § 4710(b). If the regional center says it wants to change or end a service you are already getting, it must give you written notice 30 days in advance of the change or cut-off. § 4710(a). The notice must include the action that the regional center intends to take, the reason, the effective date, the law supporting the action, and information on how to appeal the decision, including referrals to advocacy assistance. § 4701."
Finally, we find section "III" to be outrageous! You should always protect your child's rights by invoking the IPP process to develop or modify anything that affects goals or services. If you choose to participate in an IPP meeting by telephone, be sure to record the telephone call (after disclosing that fact to all those who participate in the meeting). Do NOT initial Part III.
Protection & Advocacy agrees:
"Regional centers sometimes hold "ID team meetings," "informal IPP's," or "annual reviews" that they may not consider to be IPP meetings. Sometimes the regional center will say that any agreements reached at these meetings are not formal agreements and may not be implemented. PAI believes that any meeting in which regional center staff will meet with you and/or your family to discuss services and supports are actually IPP meetings. That means that a decision maker must be present, you may reach enforceable decisions at the meeting, and you must be able to sign the IPP or a written confirmation of your agreement."
Case Reports
The allegations cited above are based on anecdotal reports. Most parents aren't lawyers, and so most parents don't keep records that would serve as legal evidence. In this section we present hard evidence that we believe substantiate our allegations, at least in these cases. We have no reason to believe that these two cases are isolated; indeed, testimony by Margarita Duran, the ELARC Residential Placement supervisor, suggests that these cases simply represent the normal operating procedures at the ELARC.
Both cases involve "Johnny" (not his real name). The documents reproduced in the various figures were introduced as evidence in an administrative hearing initiated by Johnny's family. They are used here with the permission of Johnny's family.
Case Report No. 1 -- Records Fraud
An annual IPP meeting was scheduled for Johnny. Although the meeting was originally scheduled for December 17, 1999, no IPP meeting was not held that day. An IPP was not completed until March 17, 2000. Johnny's parent and the service coordinator met on March 17 and signed the IPP Signature Page (see Figure 3(a)). Note that although Johnny's parent signed the IPP on March 17, the ELARC service coordinator did not date his signature and he also left "IPP Conference Date" blank.
Figure 3. (a) Left. Yellow Copy of Johnny's IPP Signature Page. Note dates left blank. (b) Right. White Copy of Johnny's IPP Signature Page. Note backdating.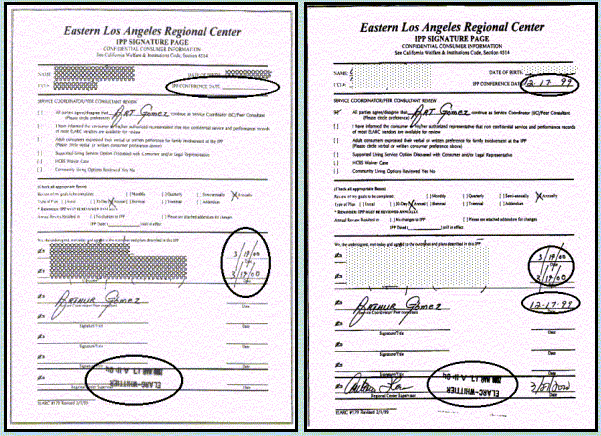 Before returning the form to the service coordinator, Johnny's parent took the precaution of having both the original (white) and second (yellow) copies of the form date stamped by the ELARC receptionist.
Figure 3(b) shows the IPP Signature Page after it was signed by the supervisor and entered into Johnny's case file. Note that the date of December 17, 1999 has been entered as both the IPP conference date and the date of the service coordinator's signature.
To anyone reviewing Johnny's case records, it might appear that an IPP meeting was convened on December 17, but that the parent failed to sign the IPP until three months later. We're not sure why the ELARC would practice such deceit, which we believe to be illegal, but we do believe that "taking liberty" with IPP records is simply part of the ELARC culture.
Case Report No. 2 -- Informed Consent Violation
In this case Johnny was placed in a group home without any meeting or conference to determine if this placement was suitable for Johnny.
Johnny is profoundly deaf and communicates exclusively in American Sign Language. The ELARC sought to place Johnny in a group home where there were no staff or residents who could communicate with Johnny. Johnny had complained to his family that he did not want to live at this group home. Never-the-less, the ELARC service coordinator had Johnny sign an IPP signature page that placed Johnny at this group home (see Figure 4).
Figure 4. Fraudulent IPP Signature Page. Johnny was placed in a group home without consent. Johnny was hospitalized the next day.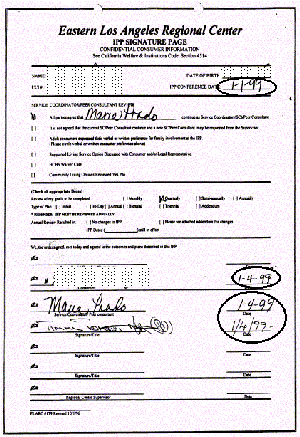 Figure 5. ELARC Acknowledges No IPP.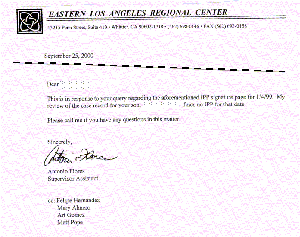 The IPP was signed by the service coordinator and group home representative on January 4, 1999, for an IPP conference that allegedly took place on January 1, 1999 (a legal holiday). Johnny was not able to read the IPP signature page, no American Sign Language interpreter was present to explain the form to Johnny and Johnny's family was not notified about this meeting. Of course, as seems to be the practice at the ELARC, the IPP signature page was not accompanied by any IPP text. This latter fact was acknowledged by the ELARC (see Figure 5).
This second Case Report is an example of a point we made earlier, that "…At worst, services are provided that can be harmful, even dangerous, to a client." In this case, Johnny did not want to live at the group home the ELARC was determined to force him into. No goals were established for Johnny's program. Neither Johnny nor his family were involved in the IPP process. The day after this IPP was signed, Johnny was hospitalized, the first hospitalization of his life, as a direct result of this placement.
Should Johnny's family have been notified about the January 4 (or January 1) IPP meeting? Here's what Protection & Advocacy has to say about this issue. The following notes are extracted from Rights Under the Lanterman Act (Regional Centers):
"The regional center must give you written notice of when and where all meetings to create, evaluate or revise your IPP will take place. You can also name another person to receive notice of your IPP meetings and all notices relating to changes in services and appeals. § 4646(e)."
At administrative hearing on November 7, 2000, before Administrative Law Judge Carolyn Magnuson, under oath and on the record, ELARC residential placement supervisor Margarita Duran was shown the documents in Figures 4 and 5. In what can only be described as a stunning revelation, Ms. Duran admitted that initial residential placement, based on nothing more than an IPP signature page, is the standard operating practice at the ELARC. We believe that this is illegal. We believe that this is a violation of the principle of "informed consent." We believe that this is a fundamental human rights violation.
"OK, so maybe the IPP process at the ELARC isn't perfect, but the clients are receiving services, and that's the important thing, isn't it? So, what's the big deal?"
We hear this statement, or words to that effect, frequently at the ELARC. Here's our reply:
First, reading between the lines, we think there's an implication that "if you have an IQ of 50, it doesn't really matter a whole lot whether or not your rights are protected under the law, because you're just a 'tard anyway, so who cares." Therefore, we won't make the "moral" case about doing the "right thing," because, as parents of developmentally delayed children, we know better.
We won't even make the case for "the law is the law and we all have to obey the law," because we expect that people will take liberties with the law--when they think they can get away with it.
So here's the "big deal": By not following the IPP process as envisioned in the law, we risk providing services to clients that, in the long run, will cost the ELARC more money than if they simply provided the right services in the first place. Also, by not following the IPP process as envisioned in the law, we risk doing harm to people, and in our litigious society, doing harm to people can be expensive.
For example, in the case of "Johnny" cited above, his case has cost the ELARC far more than it would have, had the ELARC followed the IPP process, as envisioned in the law, and provided Johnny with the right services at the right time. We don't believe that Johnny's case is unique; we know of a number of cases similar to Johnny's. The only thing that might be unusual about Johnny's case is that his family has been vocal.
How and Why?
Parents who have been involved with the ELARC for many years may have become accustomed to the current state of affairs and simply learned how to work within the system. But parents who aren't so jaded can't help but to ask: "Why and how did things go so terribly awry?" How did the system become so deviant from its mission that a situation like Johnny's, for example, came about?
There are many answers to this question; all of the answers deal with complex and difficult issues. We hope to touch upon some of these issues in future articles. For the moment, we offer four of what we believe to be the underlying, root causes for the current ELARC situation:
There are fundamental flaws built into the California Regional Center system. As one guru recently observed: "The Regional Center system is like an all-you-can-eat buffet where the food is limited. What can you do if you're the manager? You use smaller plates, make it harder to access the more expensive items, make lines longer…"

The ELARC has been in a budget deficit situation for many years. We believe that the budget situation at the ELARC has had a very significant impact on staff morale and performance. For a number of years staff salaries did not keep pace with increases in the cost-of-living. At one time all staff were required to take nearly a month of unpaid leave. Because of the manner in which Regional Centers are funded, deficits in the "services budget" (for clients) must first be paid from the "operations budget" (for staff). Therefore, if a Regional Center is operating in a budget deficit mode, as has the ELARC for many years, then every expenditure for client's services ultimately comes out of staff's pockets in the form of a reduced "raise pool," reduced cost-of-living allowances, reduced training, and perquisites.

We think this is disgraceful. It engenders an atmosphere of "them versus us." Some ELARC staff have commented "they [clients] have more rights than we do." In our opinion it is ludicrous to expect that objective decisions about client services purchases could be made by a staff so profoundly and directly affected by the fiscal situation.

It would be easy to shrug our shoulders, blame the State of California for under-funding the system, and throw up our hands; but that would be very myopic. Even granting that there are underlying systemic problems with the California Regional Center system, the fact is that there are Regional Centers, such as neighboring San Gabriel Pomona Regional Center (SGPRC), that haven't found it necessary to thwart the IPP process in order to reduce costs.

What's the difference between the ELARC and the SGPRC? In a word, "management."



We believe that the current situation at the ELARC is directly attributable to failed management. In our opinion, three persons must share responsibility for this failing. They are: Gloria Wong, the Executive Director, Felipe Hernandez, the Consumer Services Manager and Frances Jacobs, the Community Services Manager.

A future article will profile the ELARC's executive management, but in a nutshell, here's who they are and what they do.

Ms. Wong has been with the ELARC for nearly twenty-five years. Ms. Wong started as a service coordinator and has steadily risen through the ranks to her present position as Executive Director. Ms. Wong is the Regional Center's equivalent of a corporate CEO; she represents the staff with the Executive Board, carries out strategic directives and oversees management.

Mr. Hernandez, trained in public administration, joined the ELARC in 1978 as a service coordinator. Like Ms. Wong, he has risen from this entry-level position to his current position as Consumer Services Manager. As Consumer Services Manager, Mr. Hernandez assumes responsibility for the implementation and oversight of the IPP process at the ELARC.

We understand that Ms. Jacobs has worked with the ELARC for some fifteen years. Unlike most of the professional staff at the ELARC, Ms. Jacobs' professional training is as a registered nurse. As Community Services Manager, Ms. Jacobs is responsible for two principal activities. First, assuring that vendor services are available to meet the client's needs as expressed in their IPP's and second monitoring and maintain the quality of services delivered.



Due Process/Accountability. We hope to publish an in-depth article in the very near future on this topic. Our conclusion, however, is that the current due process mechanism available to clients and parents is very, very ineffective. The due process mechanism, which involves primarily the State of California's Office of Administrative Hearings and the Department of Developmental Services, is so impotent that both Regional Center and vendor staff openly flaunt non-compliance.

Parents, therefore, must wage a battle on (at least) two fronts should they attempt to challenge the Regional Center system. First, they must try to use the Regional Center's processes to obtain compliance with the law, and, failing that, they must try to use the due process mechanisms.



The fourth root cause for the current ELARC situation is not strictly an IPP issue. However, vendor incompetence and non-compliance is, in our opinion, so egregious, that no solution of the IPP problem would be practical unless the vendor system is fixed.

More about this in a future article. For the moment we simply advise parents that it may be preferable, and in some cases mandatory, that families themselves become Regional Center vendors in order to provide acceptable services for their children. No family ever wants to do this; they do it because they have to.
Are There any Fixes?
We are reminded of H. L. Mencken's oft-quoted remark: "for every complex and difficult problem, there is a simple solution--and it is always wrong!" Never-the-less, here are some of our suggestions for improving, though not necessarily solving, some of the problems described in this article.
One caveat: we won't attempt to suggest improvements to the overall Regional Center system. Although we have plenty of suggestions, they all require action by powers higher than are available at the ELARC. We will make some suggestions that can be implemented by the ELARC management and/or Executive Board.
Failed Management

Between them, Ms. Wong, Mr. Hernandez and Ms. Jacobs possess over a half century of Regional Center experience. These are people who have enormous technical knowledge and experience, but have never worked in a commercial enterprise. In our opinion, Ms. Wong, Mr. Hernandez and Ms. Jacobs should serve in capacities that would allow them to make significant technical contributions; serving in management positions only dilutes their technical expertise with the mundane.

In our opinion, the ELARC cries out for professional management. Managers with MBA degrees and who have experience in managing commercial enterprises, should be recruited to simply make the machine work properly. Those managers should report directly to the ELARC Executive Board.

Some will think that hiring professional managers is beyond the financial means of the ELARC. We think not. In Southern California there is a very substantial pool of retired corporate executives. Many of these seasoned men and women would leap at the opportunity to provide expertise for an organization that has the potential to do so much good for the community. As we write this article, a battalion of so-called "dot com" executives are looking for work. Many of these hard-driving, business savvy managers would relish the opportunity to work in the public social services field.



IPP Process

As parents of handicapped kids, we are all "experts" on the IEP process used in the special education system. This is a formal process, with accountability and due process. Why can't we have the same kind of formal process for the analogous IPP process?

We very strongly suggest that the IPP process at the ELARC be formalized, documented, implemented and promulgated to all clients and families. The model for this effort should be the IPP process at the San Gabriel Pomona Regional Center.

Every client at the SGPRC receives a Purchase of Service Policy (see Figure 6). That document describes each of the services provided by the SGPRC and the criteria for providing the service (see Figure 7). Although such a document may exist at the ELARC we are not aware of any parent who has ever seen one. In any case, if such a policy or process exists at the ELARC, it certainly isn't implemented!



Figure 6. Each SGPRC Parent Receives a Purchase of Service Policy Booklet.

Figure 7. Criteria are Specified for Each Service.




One advantage of having a formal IPP process is that clients and parents would feel that decisions are being made in an objective manner. Of course, there will always be disagreements about the policy, about whether or not criteria are met, etc. But, in our opinion, a formal IPP process would certainly eliminate the vast majority of disputes, due process hearings, complaints and enmity. This would, in turn, results in proper services being provided in a more timely fashion, thereby reducing long-term costs.



Organizational Structure

In our opinion, there is a significant muddling together of "application domains" inherent in the job description of service coordinator as stated in the Lanterman Act, if not as practiced by the Regional Centers. Compounding this are the inordinately high client to service coordinator ratios. Service coordinators are expected to be Jacks-of-all-Trades, and walk on water; preferably at the same time! It's no wonder that, after a few years, they "burn out," and those that can, move on. And those that can't move on, well, more about them in a future article.

We believe that distributing certain functions and specializing staff would improve efficiency and accountability. If we did a survey of all ELARC parents and asked "what do you hear your service coordinator say most frequently," the number one answer would surely be "it's not my job." Our reply: let's make it "their job."

One example: "quality assurance" is in the Community Services department. But the people who have the most contact with the clients, and therefore would know the most about quality problems, are the service coordinators. And service coordinators are in the Consumer Services department. Organizationally, the "crossover manager" between a quality problem (identified by a service coordinator) and a remedy (implemented by quality assurance) is the Executive Director! Clearly, every service problem can't rise to the level of the Executive Director. Therefore, service problems aren't elevated to the Executive Director. Therefore, quality problem remain unsolved. And, as parents, we can attest to that! One strategy worthy of investigation would be to integrate the quality assurance functions currently in the Community Services department with service coordinator functions.

One final suggestion for the folks at the ELARC to ruminate on: Move the service coordinators out of Palacio Alhambra and into the community! That is, turn each service coordinator into a one-person office! Well, just how unrealistic is that? Let's see: First of all, under the law, "service coordination is the highest priority" of the Regional Center. And, considering the high client to service coordinator ratios, why not physically place the service coordinators where the clients are? For example, what if each ELARC vendor provided, say, sixty-four square feet of office space for one ELARC service coordinator. Office space could be found either in the vendor's office or, preferably, in a day program facility or group home, where the service coordinator could have constant exposure to his or her clients. But how would the service coordinator maintain contact with the main office? Well, thanks to modern technology, a single desktop personal computer, costing under $2000, could service as a telephone answering system, FAX machine, payroll timekeeping system, video conferencing system, and more.

The folks at the ELARC should love this. First, Frances Jacobs, Community Services Manager and a notorious micromanager should leap at the opportunity to have "spies" inside each vendor's office! And Eduardo Alvarez, the "money man" at the ELARC, should be thrilled to be saving all of that expensive rental space at Palacio Alhambra. Who knows, maybe the savings could be used to provide the service coordinators with salary increases. More about that in the next section.



Accountability/Incentives

Unless the ELARC can compel service coordinators to take a vow of poverty, we think it's naïve to expect that services coordinators to be accountable without incentives. And, if service coordinators are to be held accountability, then we suggest they be provided corresponding incentives.

One suggestion: make service coordinators accountable to IPP goals. We have a feeling, that if service coordinators knew they could earn money every time one of their clients achieves an IPP goal, we would see more realistic, measurable, performance based goals.



Staffing

We suggested earlier that there needs to be a change in ELARC management. We also believe that the criteria currently used to recruit and hire services coordinators need to be revised. Although there is a need for service coordinators with a variety of backgrounds, we believe that service coordinators should be hired with business experience, particularly purchasing experience.

We don't mind if an applicant is a member of the National Association of Social Workers (www.socialworkers.org), but we think a candidate who is a member of the National Association of Purchasing Management (www.napm.org) probably are better suited to do the job.
Summary
This article came about because a number of parents have become not merely concerned, but frightened, about the current state of affairs at the ELARC. We believe that, left unchecked, the ELARC could do enormous harm to our children. We know that we will not outlive our children, and so we are doing what we can to assure that our children will be properly and appropriately cared for by a system that is a reasonable approximation to what the law envisions.
Our primary hope is that we can effect major changes in the ELARC's management, administration and performance. We also hope that a class-action law suit will arise from our efforts, and that such a law suit will result in the establishment of remedies and mechanisms that will insure the long-term viability and effectiveness of Regional Center services for our children.
Your experiences and opinions may differ from ours. We encourage you to post your comments on the elarc.net™ Message Board.