Judge Scathes ELARC
(Updated Aug 15, 2003)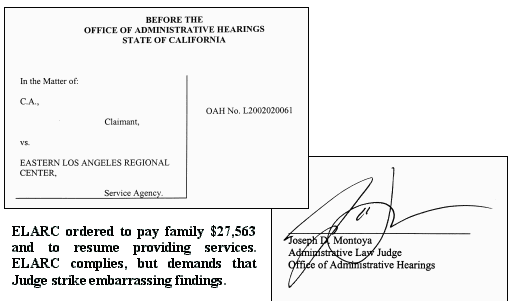 This web site was established primarily to bring to public attention what we believe to be the failure of the Eastern Los Angeles Regional Center (ELARC) to comply with the Lanterman Act in providing services to our children.
Shortly after this web site went on-line, the management of the ELARC began to react. Insiders tell us that ELARC employees were warned about providing us with information or cooperating with us in any way. Additionally, the management of the ELARC began to scrutinize the cases of our webmaster's children, both of whom were ELARC clients.
Early in 2001 the ELARC hired, at taxpayer's expense, the law firm of Gilmartin and Noland (see the related story Angela's Ashes), with the apparent intent of reducing, and perhaps eliminating, services provided to our webmaster's children. Over the next year, what could only be estimated as tens of thousands of dollars in legal fees (at taxpayer's expense) were spent on achieving this objective.
Without due process, the ELARC ceased to provide services to our webmaster's children, forcing him to borrow money to continue to provide those services.
Eventually this matter came before Administrative Law Judge Joseph Montoya (OAH Case No. 2002020061). Here's what Judge Montoya had to say: "Service Agency's [ELARC] action of 'inactivating' Claimant's file is in violation of the Lanterman Act..." "benefits were cut off by ELARC, which runs contrary to the rule that a timely request for hearing requires aid-paid pending resolution..." "ELARC just stopped paying for Claimant's services and supports, presumably pocketing the money..." "All in all, ELARC...committed a defalcation in its duties to Claimant, a retarded person who did not cause the problems the Service Agency complains of."
Judge Montoya goes on to describe how the ELARC attempted to thwart and eventually deny services to our webmaster's children. Judge Montoya describes the use of "bureaucratic folderol," misrepresentation of vendor capabilities and ultimately the ELARC's falsification of evidence "to provide some support for ELARC's position. The entire exercise harmed ELARC's credibility as an agency," said Judge Montoya.
Judge Montoya ordered that the ELARC reimburse our webmaster $27,563 for services that were not provided, and that the ELARC resume providing services. But in what can only be described as the ultimate in chutzpa, ELARC's second in command, Felipe Hernandez, penned a vitriolic letter to Judge Montoya complaining about the Judge's decision--the ELARC, however, chose not to appeal that decision.
Insiders tell us that this case caused the ELARC's Executive Board to scrutinize more closely litigation embarked upon by the management team. In fact, since this case, the ELARC has not relied on paid legal services for any hearing.
We consider this a small victory, but never-the-less a victory, for this web site.
Your experiences and opinions may differ from ours. We encourage you to post your comments on the elarc.net™ Message Board.