Gloria Wong -- Where the Buck Stops
(Updated Aug 15, 2003)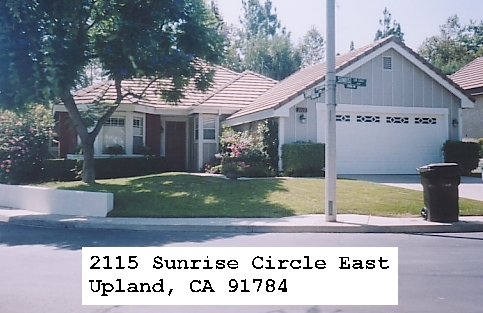 Gloria Wong's luxury home located in a private Upland community.
The Eastern Los Angeles Regional Center (ELARC) serves some of the lowest income communities in Los Angeles County. Many of our parents struggle to support their family on minimum wage employment. In addition, the responsibility of providing care for a developmentally delayed child can push many families to the brink of financial and domestic ruin.
By contrast, ELARC's Executive Director, who earns over $160,000 a year, chooses to live, not merely outside of our community, but in a different county all together! Ms. Wong's luxury home located in a private Upland community, in San Bernardino County, is a far cry from the life style of most ELARC parents. We wonder just how sensitive Ms. Wong can be to the needs of our community.
Fifty-two year old Gloria Wong (born 5/18/1951) joined the Eastern Los Angeles Regional Center over twenty-five years ago as an entry-level service coordinator. Ms. Wong has risen steadily through the ELARC executive ranks becoming Executive Director some five years ago.
Although Ms. Wong is intimately familiar with the regional center system, we believe that Ms. Wong's lack of business and management experience has contributed to ELARC's chronic budget crisis. But as regrettable as fiscal mismanagement may be, the matter that concerns us most is what we believe to be Ms. Wong's gross mismanagement of our children's cases. We believe that Ms. Wong's failure to manage and oversee the Individualized Program Plan (IPP) process has resulted in denial of needed services, funds wasted on unneeded services and, at least in some cases, outright IPP fraud (see, for example our story on IPP Fraud at the ELARC). The Lanterman Act clearly states that "service coordination" is the primary responsibility of a regional center; in this regard we feel that Ms. Wong has failed miserably.
Finally we feel that Ms. Wong exhibited gross negligence in allowing her assistant, Felipe Hernandez, to embark on what we believe to have been a personal vendetta against a parent (see Judge Scathes ELARC).
At the ELARC, the buck is supposed to stop with Gloria Wong. Unfortunately the only bucks that seem to have stopped with Ms. Wong are those that she's been putting in the bank.
Your experiences and opinions may differ from ours. We encourage you to post your comments on the elarc.net™ Message Board.